Shower Remodeling
Give Yourself the Shower You Deserve
These days, homeowners want to customize their bathroom to be a spa-like retreat: a special place in the home where they can get away from it all. We believe a shower should not only act as a beautiful focal point in your bathroom, but also as an area to simply relax.
To complement our bathroom remodeling services, New Life Bath & Kitchen offers shower design and remodeling which can be paired with or without a full bathroom remodel.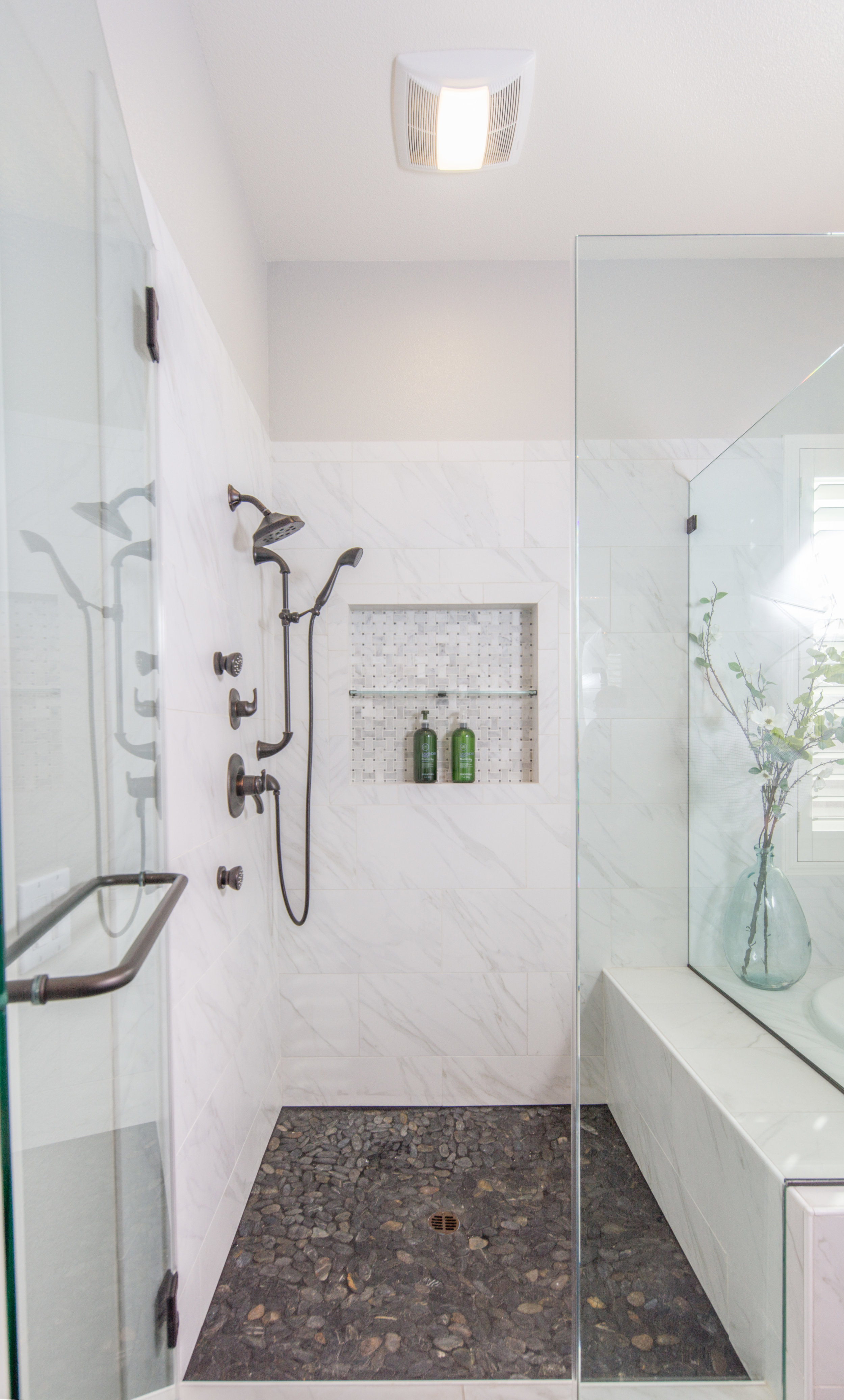 Attention to Detail
We've been in business since 1978, and have worked hard to become the Central Coast's most trusted shower remodeler. We pride ourselves on our craftsmanship and paying attention to how the smallest details work together create a beautiful, functional space.
We work efficiently, will keep the work area clean during the project, and can transform your existing shower in as little as two weeks.
Customized to Your Wants and Needs:
Our designer will work closely with you to align your ideas and needs with a design that will transform your shower into a luxurious space. Our services include:
Converting an existing bathtub into a shower
Custom tilework in a variety of materials, colors and patterns
Shower flooring including the popular no-skid rock shower floor
Partial circular shower rods for those who want to use a shower curtain and also expand the space inside the shower
Shower doors, including frameless glass partitions
Upgraded shower heads with the latest features (including removable shower heads)
Adding seating or benches in the shower
Zero Threshold Showers
One popular request from homeowners is the installation of a curbless shower. A zero threshold shower is a shower that allows you to walk in directly without having to step over any divider or threshold.
Not only is this a stylish shower upgrade, but it also improves accessibility and can be especially helpful for older adults, people with arthritis, and people with disabilities.
Bathtub to Shower Conversion
One of the latest bathroom design trends is the transition from a two-piece bath and shower combination to stand-alone units. New Life can convert that dated two-piece into a stand-alone shower, a conversion that will instantly modernize your home. If you currently only have a bathtub in your bathroom, that can also be converted into a convenient shower unit.
Request Your Free Consultation
New Life Bath & Kitchen offers affordable, professional and courteous service to homeowners in California's Central Coast, including Orcutt, Santa Maria, San Luis Obispo, Nipomo, Lompoc, Arroyo Grande and more.
Get started on the shower you've been dreaming about by calling (805) 914-0359 or contacting us here.